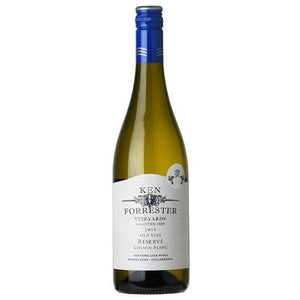 Ken Forrester farm sustainably with no herbicides or pesticides, 
Golden hued and full bodied, with melon and spicy baked apple aromas. Layered, with mineral notes enhanced by honeycomb and caramel flavors from lees contact.
This wine is a great example of the harmonious balance which can be achieved between
fruit and delicate oak/vanilla flavors, as they combine to form complex, soft flavors with sufficient body to enhance even spicy and full flavored meals.
Can be served with varied spicy dishes, full flavored fish or chicken dishes. Ideal with crayfish, prawns. A true benchmark for relaxed enjoyment.