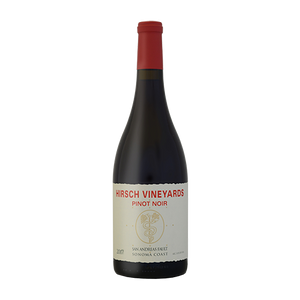 Over 39 years of farming and winemaking on the True Sonoma Coast, David Hirsch's accumulated wisdom has shown us that the dominant influence on our farming and winemaking is the San Andreas Fault, which lies just half a mile from the Hirsch Vineyard.
The San Andreas Fault is Hirsch Vineyards' signature pinot noir and is crafted to represent the entirety of this multifaceted vineyard. The San Andreas Fault has fruit from 28 distinct farming blocks. 

Their Pinot Noirs are characterized by charming ripe fruit, supple tannins, and a juicy fruit character. San Andreas is an ideal wine for drinking at any point over the next ten years: it is wonderfully open and expressive already, with the acidity and backbone to age for some years to come.