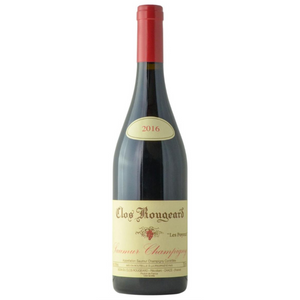 ***LOCAL PICK UP ONLY***
Clos Rougeard is an esteemed wine estate in Saumur-Champigny near the village of Chacé in the Loire Valley. The estate was taken over by Bernard and Charly Foucault in 1969, but had been in their family since 1894. Clos Rougeard has become famous as a cult producer because of the high quality and extremely limited release of its wines- around 2500 cases annually. All of its wine is sold by allocation only, mostly to restaurants, and very little outside of France. Clos Rougeard produces only four wines: a single white wine from 100-percent Chenin Blanc called Saumur Blanc Breze, and three 100-percent Cabernet Franc reds - Saumur Champigny Le Clos, Les Poyeux, and Le Bourg.
Terroir and history are especially important to Clos Rougeard. Les Poyeux comes from a parcel of land that was first cultivated in 1664. The Foucault brothers' approach to their wine is fundamentally one of minimum intervention, extremely low yields, no chemicals or pesticides, hand-harvested fruit, natural yeasts, no filtering, no fining, and gravity bottling after up to 24 months in oak.