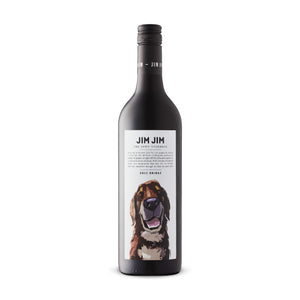 Jim Jim was Hugh's faithful Labrador/Kelpie at Hugh Hamilton's estate in McLaren Vale, South Australia. Every vintage Jim Jim would eat Shiraz grapes only when they were
ripe for the picking, so with viticultural skills like that Hugh decided he should get his own brand. Jim Jim went to the big kennel in the sky in November 2010 but his talent is remembered in his wines. 
The palate is lengthy, even, and crunchy with bright fruit, blackberry pie, tobacco box, and spice. Pair Jim Jim with BBQ, Wok charred noodles, ribs, beef curry, sizzling beef, Sichuan pepper beef or spicy sausages.